N O O R A NEWS
2019
Tuesday July 16 is our first show at Athens Square Park in Astoria 30th St & 30th Ave, Astoria, NY 2 blocks from the train stop...this show is free to the public!
Thursday July 11- QBDF show at Bliss Plaza- take 7 train to 46th & Bliss Plz downstairs from train. Show starts at 5:00pm
Friday June 21th- Join us at Lou Lodati Park as we continue our tour with QBDF and present Wind & Fire-at Skillman ave btwn 41st and 43rd in Sunnyside
Sunday May 19th we are touring throughout Queens with The Queensboro Dance Festival from May - Sept. Our first performance is at Bell Bivd in Bayside around 40th street at 3:00 pm, more details: https://www.queensborodancefestival.com/events
Greek Nights Festival at Athens Square Park in Astoria coming up July - Sept
Jan 1/19/19- the first gig of the year! Noora Dance Theater will be doing an hour show at the Bayside Library in Queens.
*****************************************************************************************
2018
Fri 11/30/18 Noora has the title role in a short film where she will be improvising dance to a voice over monologue

Fri 11/2/18 Noora Dance Theater guest performer for the Queensboro Dance Festival & the

LIC dance al lstars fund raiser at Plaxall Gallery Fri 9/14/18 Noora Dance Theater performing with the Queensboro Dance Festival Gala Event at HUNTERS POINT PARK Tues 9/4 and 9/18 GREEK NIGHTS at Athens Square Park join us for a joyful evening of live music, dance and song...free

Sat 8/25

Noora Dance Theater performing with the Queensboro Dance Festival

at Fort Totten in Bayside, Queens show starts at 2:00 pm!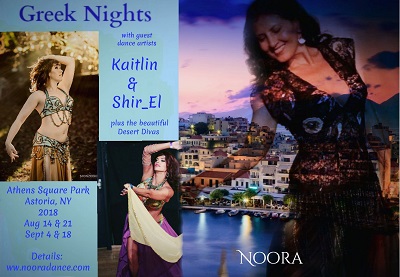 GREEK NIGHTS at Athens Square Park- with live music and performances from July - September 2018 ...free! In Astoria, Queens take N or W to 30th ave stop, walk 1 block to 30th street. It is diagonally across from the Tradefair supermarket.

Next performance 9/4



Jamaica Dance Festival -The festival continues for three more Saturdays – June 9th at 7:30 pm. Vissi Dance Theater + Noora Dance Theater + Rastro Dance Company

Noora will be performing as a guest dancer for the Queensboro Dance Festival at the Ridgewood Library on June 2 at 3:00 pm https://www.eventbrite.com/e/performances-at-ridgewood-queens-library-registration-46379294719
May 27th Drum & Rhythm class with a live drummer. a must for all students!!Sign up for the 8 Week Course details here
New promo video - https://youtu.be/GeiX50-gnnc
Introduction to Belly Dance Sunday February 11th 2:00 - 3:00 pm at Champion Studios drop ins welcome!
Friday Oct 6th 2017 - Noora Dance Theater will participate in the Queensboro Dance Festival that continues at the Secret Theater in Astoria. Not to be missed! Details: https://www.queensborodancefestival.com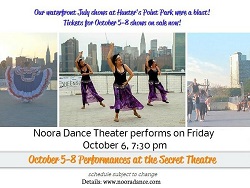 Tuesday Aug 29th 2017-we have been asked

BACK BY POPULAR DEMAND

to perform at the GREEK NIGHTS festival in Athens Square Park...this event is FREE!!! Music from this night is from Laiki Compania a band from Asia Minor which plays a rich mixture of Greek and Turkish rhythms. The violin player is a virtuoso in this genre. He is unbelievable to hear and worth it just to go hear him play! It is just 10 minutes from Lexington and 59th St. Come enjoy this magical evening with terrific live music and dancing for everyone. Take N or W to the 30th St. stop walk half a block on 30th St.
Aug 8th- GREEK NIGHTS continue on Tues August 8th at Athens Square Park...this event is FREE!!! Just 10 minutes from Lexington and 59th St.
July 24th this Monday coming up! Free open level Ballet with Billy Blanken (Sheep Meadow Dance Theater) 5- 6:30 pm & Belly Dance with Noora (Noora Dance theater) 6:30 - 8 pm. Interested? Contact me!
July 25th and Aug 8th- GREEK NIGHTS! Mark your calendars and join us in the festivities outdoors! We have been invited to perform this year again at Athens Square Park! Also, come for free belly dance lessons at 6:30 pm starting July 18th

Coming up in July and October Noora Dance Theater will be part of the Queensboro Dance Fest. https://www.queensborodancefestival.com/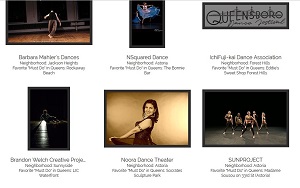 May 2017- Free belly dance classes coming to Astoria, stay tune!
For beautiful hand made, one of a kind costumes check out Decotach at the new website www.decotach.com
Feb 2017-Valentines Day Show Feb 12th~
Dec/Jan Holiday Specials- Privates and Semi Privates Available Now Through January 6th 2017! Take advantage of this great deal up to 15% off regular price! Email me for the Holiday and new updated rate form!
Aug- Greek Night with Noora in Astoria, NY at Athens Square Park. Just 10 minutes from Lex & 59th ST, take N or Q to 30th ave park is one block away
July- AN INTRODUCTION TO IMPROVISATION - How do you do you get to the point of creating a dance on the spot that's meaningful, rhythmic, dynamic and more?
May 14th & 15th 2016- the Desert Divas will be performing at THE 9TH AVE ST. FEST on 9th ave between 54 & 55 streets!
May 16th 2016- Noora has been asked to represent Middle Eastern dance for children as part of an educational program at a public school in queens, awesome!
May 17th 2016- Noora will be dancing at Jebon with the Scott Wilson band, new Tuesday night shows!

4/2/16 Next show Sat April 2nd ~THE ENCHANTED VEIL showcase at http://darbarny.com~ featuring the

Desert Divas and guest dancers Details

:

EVENTS~
1/31/16 DESERT DIVAS in the news! See the Press page~

2015-It is my pleasure to announce a few new projects that will involve performing! The first is the formation of a Corps de Belly Dance or a dance troupe for beginners. The other wonderful announcement is I have obtained a space for us to do our very first performance! Please check your emails for the newsletter with all the details. If you haven't received this emails or would like to get the details please email me noorabizny@gmail.com
June - August - Starting June 15th and through August we will be doing THE TEN SONGS EVERY BELLY DANCER SHOULD KNOW~
Sensuous Baladi Workshop this summer - June 2015....
Dance* Music* Food* Fun* Join the Serena Studios teachers and students for The 9th Ave Street Festival on May 16th & 17th.

Show times: Saturday starting at 4:00 and Sunday at 2:15

!
March schedule: the Performance Class continues on Tuesday nights more info here
Don't miss Noora's appearance on the MOM & POP SHOP Wed 2/18/15 at 4:00. It's all about fun!
Join Scott Wilson & Efendi, Dorit, Noora & Students on 2/15/15 Valentines Day for an evening of live music and joyous dancing at the new FIGARO!
Tuesday 2/3/15 Continued workshops series at SERENA STUDIOS with The 6 Part Show~ choices; veil/rhumba, taqsim or chifteteli. This is for 1 1/2 hrs~ For more details: www.serenastudiosonline.com
Tuesday 1/20/15 Join Noora as she kicks off the beginning of a series of workshops at SERENA STUDIOS with The 6 Part Show~ All about the Entrance~ For more details: www.serenastudiosonline.com
Noora will be teaching at Serena's Sat January 3 2015 the Beginner 2 @ 12:30 pm & Intermediate Classes @ 1:30 pm
Mark your calendars Decotach will be part of this fabulous event January 17th, 2015! Lots of new
items and great prices~ See you there!
I will be teaching an intermediate/advance class at Serena's this TUESDAY 11/25/14 AT 7:00 PM. I will be teaching the Baladi my favorite. So come slink with me if you can. Drop in is $15.00, but check to make sure at her website. Looking forward to seeing some of you there!
I will be teaching at Serena Studios 939 8th Ave #403 from Nov. 9th through Feb 10th
Sundays at 1:00 pm beginner 1 and 2:00 pm beginner 2 DETAILS

I will also be teaching Sept 10, 17 & 24 at the Woodside Library, these classes are intro to belly dance and they are free! 54-22 Skillman ave at 4:00 pm. Oct. I will be at the Poppenhusen 10/7, 14 & 21 at 4:00 pm & Langston Hughs 10/20, 27 & 11/3 at 5:30
SEPT Join us on Monday the 8th for TABLA FEVER with fabulous guest drummer Richard Khuzami & beautiful guest dancers Yowalka, Ivettina & Shir-el. You too can be a part of this show. Details: here
AUGUST 24th and 31st I will be subbing Ivettina's class at SERENA'S STUDIOS

939 8th Ave Rm 403,

1:00 pm beginner & 2:00 pm beginner level 2 classes, both on Sunday!
JUNE 29TH is the next workshop DRUM SOLO ~ IN CONTROL WORKSHOP. See details here
Noora will be teaching at the QUEENS PUBLIC LIBRARY the month of June. It will be beginner open level class. Locations will be posted shortly, join me if you can!
A new workshop series for private and semi private coaching through April 2014.
Sunday Jan 12th 2014- Noora starting the new year with student night at Jebon featuring live music with Scott Wilson and his band. Jebon 15 Saint Marks Pl in the East Village, from 7-9 pm (212) 388-1313.
Sat Jan 25th 2014- Isolation Intensive Workshop 2014~ start the year with a solid workout! Details: here
*******************
Sunday Dec 1st- the last student night with Noora for the year. Starting at 7:00 pm at Tagine's Fine Moroccan Cuisine www.taginedining.com. Enjoy great Moroccan food and belly dancing by your favorite students! Students interested in performing this evening please email me and also see the instruction page scroll down to STUDENT NIGHTS with NOORA for more information. See flyer on home page!
MELODY & RHYTHM Interpreting music Workshop~ SEPT 29th
Read some of the testimonials about our DIVA'S OF THE GOLDEN AGE II show here testimonials
July 25 & 27- Bigger & better and back by popular demand our next production DIVA'S OF THE GOLDEN AGE II premieres on Thursday 25th & Saturday 27th with new and favorite Diva's presenting the beauty of CLASSICAL BELLY DANCE and some vintage inspired costumes by Decotach! Not to be missed!!!
June 2- Vintage Belly Dance Workshop- Was it the tilt of the head, the sway of the hips or the glide on the floor that made it so memorable?
This workshop has been rescheduled for April 7th ~ SMOOTH LAYERING TECHNIQUES, get all the details here.
No Workshop the month of February, will resume in March please check here for updates!
~Hafla Show ~ a hafla is a party in Arabic, so come join us at Sol Dance Center 30-16 Steinway St., Astoria, NY on Feb 23rd for dancing, refreshments, great deals on costumes & accessories and great company! Vending by Decotach www.decotach.com and a lot more! See our invitation on Facebook: https://www.facebook.com/events/128110257359774
Sun Jan 27th~ISOLATIONS INTENSIVE WORKSHOP~ Start the New Year with an Intensive Isolation's Workshop. Learn how to properly execute a movement by learning what part of the body it comes from and understand how it works!